2017 Reading Challenge: I Can't Do It Without You
As some of you already know, I've been completing a personal reading challenge each year for the past two years. It began in 2015 when I realized I wanted to reawaken my love for fiction, and so spent the year reading wonderful classic works of fiction, from Dumas, Dickens, Tolstoy, Woolf, Achebe, Marques, Hugo, Cather, and more. Doing so made me realize how many books I had in my house that somehow I had bought but not yet read, so the 2016 project was to read stuff that I already owned (with one proviso that I could also read items from MPL). I am a fast reader, and by watching a lot less TV, somehow I read 200 books, some of which I had owned since the early 1970's. The oldest book I read was A Journal of the Plague Year by Daniel Defoe written in 1722, and one of the newest was Margaret Atwood's The Heart Goes Last. Most of these 200 books have since left the house. Some fell apart as I read them, so they were recycled, others were passed along to family and friends, but the balance were popped into the bin at the Main Library for the Canadian Federation of University Women annual book sale the proceeds of which support local scholarships.
I've been so inspired by these challenges, and in thinking about 2017, I wasn't sure what direction to follow. Certainly I need to continue my project to read things I already own, and I'm going to so, but I wanted a new element to the challenge, and this is where you come in.
I want to read books that you admire and love, too. I'm happy to read as much as I can of the titles you recommend: children's books, teen titles, fiction, non-fiction, new or old. Reading in areas I may not be familiar with will be a wonderful experience and I'm looking forward to stretching my brain all year long.
Share with me by email to Leslie.Fitch@mpl.on.ca, and I'll read at least one book a month from your recommendations, and will share my thoughts here on this page each month.
Thanks in advance for helping me make 2017 another wonderful year of reading.
January | February | March | April | May | June | July | August | September | October | November
Two reading recommendations follow.
Laughing All the Way to the Mosque by Zarqa Nawaz
Recommended by Anah
This book, a memoir which outlines the everyday but anything but commonplace life in Canada by Zarqa Nawaz (the creator of Little Mosque on the Prairie), was such fun to read. Irreverent, self-mocking, and entertaining fun, with just enough seasoning of life's challenges to ground it.
Nawaz is a first generation Canadian, who immigrated to Canada with her family when she was five. To say that she was born with a questioning spirit and a unique approach to life is an understatement. I knew this was going to be really enjoyable when she started her story by remembering playing in the schoolyard with a little boy who tells her that he'll "believe in God if you push me on the swings for as long as I want. I agreed. My arms ached and recess was torture, but that was the price of saving Davy's soul." Soon after, Davy's mom returns the favour of saving souls by stopping Zarqa from eating (more) pork at Davy's birthday party: "I couldn't believe my taste buds. The meat was so good it was like eating a piece of heaven... Who knew that the pictures of cute pigs with a giant X through them would translate to tasty morsels on a platter?"
This is just page two, and already readers knows that they are well-positioned for a great time, and in fact I read this book in one sitting, enjoying her stories about her dissatisfaction with her braids, her school lunches, what she wore, challenging her parents on faith, going to Muslim camp, adventures in education, dating (oh, the dating!), concerns about circumcision, and so much more. Her wonderful family, and even more wonderful husband with his deadpan responses to her slightly more, shall we say, excitable responses to life brought even more texture to the stories. More than once I found myself being rather sad that I wasn't related to them, too.
Those parts of the book when she dealt with more serious topics (questions of faith; the response by her mosque to her television series; gender issues; death of family members; and importantly, 9/11) were thought-provoking. While self-deprecation remained a hallmark of these stories, too, the important nature of what she was talking about resonated.
If you want to make a new friend, and laugh out loud while doing so, I hope you pick up this book today.
Get your copy of Laughing All the Way to the Mosque today.
---
The Girl Who Drank the Moon by Kelly Barnhill
Recommended by Bekah
Reading fantasy novels is something I've done for most of my reading life. I suspect that given my love for fairy tales and tales of the Greek and Norse gods as a child, it was a pretty obvious transition to reading Tolkien, and the other titans of fantasy writers, and doing so is something I've continued to enjoy since that time. As a result, I was very pleased to get this recommendation from Bekah, as I had not yet read any of Barnhill's titles — an oversight soon to be rectified.
The City of Sorrows is a fog-bound community, led by Elders, with the status quo protected by Sisters of the Star. It also has a dreadful annual Day of Sacrifice. On this day, the community accepts that a sacrifice of a newborn child must be made to the Witch who lives nearby, in order to protect the lives of everyone else in the community. It is something that is accepted by all, but the numb grief of having to do so inculcates the community in sadness.
Then we meet the Witch, who lives in the Bog with her friends, the genial, poetry-writing swamp monster, Glerk, and the large-hearted Fyrian, who believes he is a Simply Enormous Dragon but is in fact a Perfectly Tiny Dragon. She has no idea why the City of Sorrows leaves a baby once a year in a clearing in the nearby forest, but each year she is driven to be there to rescue the child, and take it to be adopted to neighbouring, and much happier, communities. The communities welcome these Star Children, so-called since Xan, the Witch, feeds them on starlight as they travel through the forest to their new home.
We visit the City of Sorrows as Antain, a young man who does not fit into the roles others try to assign him, begins to question the Day of Sacrifice, a mother fights to keep her baby daughter and is driven mad with loss, and Xan accidentally feeds the latest sacrificed baby moonlight instead of starlight — enmagicking the girl. Xan realizes that she must raise Luna herself, with the help of her friends.
Thirteen years later, Luna's magic is bursting from her, Xan is aging, a Perfectly Tiny Dragon may become more than he seemed, more of Glerk's origin is revealed, escape from a prison seems possible, and birds are not always what they appear to be. Disturbingly, Antain and his wife Ethyne are the only parents with a newborn leading into the Day of Sacrifice, and so a terrible decision must be made. Changes are coming. And the true horror of what lies at the heart of the community is revealed.
What a terrific book.
Get your copy of The Girl Who Drank the Moon today.
Three reading recommendations follow.
The Hero's Walk by Anita Rau Badami
Recommended by Farheen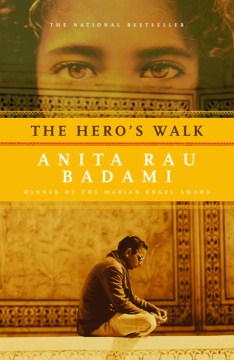 Living a life of quiet desperation is the fate of Sripathi Rao and his wife Nirmala, unmarried sister Putti, domestic tyrant mother Ammayya, and not quite successful son Arun. This once rich Brahmin family lives in a crumbling mansion in an unremarkable town on the Bay of Bengal. Disappointment, lost dreams, and aborted opportunities have, to an extent, crushed each member of the family, and there looks to be no hope for a brighter future on the horizon.
We meet them at the start of this wonderfully compassionate, often humorous and award-winning book as a terrible event occurs: Sripathi's estranged daughter Maya, who married outside her caste and race, has died with her husband in Vancouver, leaving behind an orphaned seven year old daughter they have never met. Nandana must come to live with her extended family, and with her arrival change somehow begins to happen.
Badami is a remarkable storyteller, as she shares the bitter regrets of the characters, the comedy of everyday life, the tragedies that can crumble the hearts of so many, and the unexpected finding of strength and determination to make joy possible in an ordinary life. With joy somehow hope returns. She brought to life every aspect of life in Sripathi's town, and I'm so pleased I was able to spend time in Toturpuram.
It was five o'clock on a July morning in Torurpuram ... in a few hours the heat would hang over the town in long, wet sheets, puddle behind people's knees, in their armpits and in the hollows of their necks, and drip down their foreheads. Sweaty thighs would stick to chairs and make rude sucking sounds when contact was broken. Only idiots ventured out to work and, once there, sat stunned and idle at their desks because the power had gone off and the ceiling fans were still. It was impossible to bat an eyelash without feeling faint.
This book. My goodness. I just loved it. I cared so deeply for the people brought to life on each page and I just ached for them to be happy. It made me laugh. It made me cry. It made me sad, and made me glad. Farheen, thanks so much for your recommendation.
Get your copy of The Hero's Walk today.
---
The Raven Boys by Maggie Stiefvater
Recommended by Eileen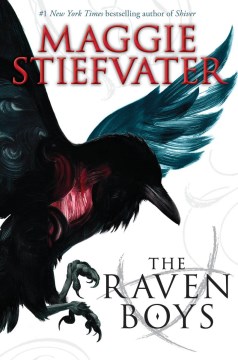 Maggie Stiefvater has been a published author for not quite 10 years, and in that time has become one of the bestselling authors in the young adult genre, and I was delighted to get a recommendation to read her Raven Cycle of titles, particularly as she will be coming to Milton on Monday, November 6 for a MPL event (reserve your space today!).
How is this for a first line? "Blue Sargent had forgotten how many times she'd been told that she would kill her true love". Being a teenager can be tricky enough. Being a teen in a matriarchal family of psychics who aren't charlatans, and given that fate? Well, you know your approach to boys is going to be complicated. At the beginning of the book when she is sixteen, she is told that this is the year she will fall in love.
We then meet a group of friends that we are somewhat set up to dislike, since we already like Blue, and she automatically dislikes all of the entitled boys who attend a very fancy prep school in her small Virginia town. Aglionby Academy is, according to Blue, an all-boys school for politician's sons, and oil baron's sons, and the sons of mistresses living off hush money. "They think they are better than us and that we're all falling all over ourselves for them" she says. And about them she has developed two rules: "One. Stay away from boys because they were trouble. And two, stay away from Aglionby boys, because they were bastards".
And yet Gansey, Ronan, Adam, and Noah are not people to be dismissed or disliked. They are an admirably tight group of friends with circumstances, complexities and personalities that challenge their relationships, and they are working toward a mysterious shared goal which serves to drive the plot.
Stiefvater is a very skilled writer who writes with insight, humour, and creativity. I loved that the book surprised me more than once, and that I couldn't guess what happens next. And I especially loved how she made me believe in the great friendship between the boys. The next books in the Cycle are waiting for me to read next, and I can't wait.
Get your copy of The Raven Boys today.
---
A Dog Walks Into a Nursing Home: Lessons in the Good Life From an Unlikely Teacher by Sue Halpern
Recommended by Bill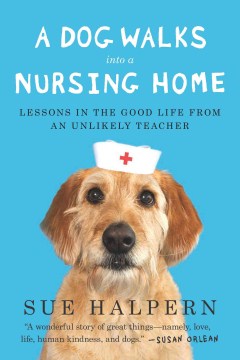 Sue Halpern is a gifted writer, and so I was happy to get this recommendation.
Restraint. Prudence. Faith. Fortitude. Hope. Love. Charity. These are the chapters under which Halpern shaped her story, and she brought Aristotle, Darwin, Schopenhauer and others into the story to help wrestle with these larger themes (along with her 43 pound labradoodle named Pransky) in order to tell the stories of what she learned when she trained her dog to become a therapy dog for a local nursing home. This isn't a sentimental book, but it does engender deep feeling as Halpern shares her compassionate and clear-eyed thoughts about old age, connections, and caring with the reader. It was so deeply moving, and I'm grateful I had the chance to read it. I hope some of what I've learned as a result will stay with me for many years to come.
And after our bodies are done with us, what remained? If we were lucky, someone to tell our stories. So I will tell you about Fran and Lizzie and Dan and Thomas and the others Pransky and I met at County who are gone now, and breach the wall of mortality. That is history bending toward itself. I will tell you about Pransky and the life that we made together at the nursing home and in our family, and praise her intelligence and athleticism and kindness, and tell you about the time she chased the lamb through a room filled with old people in wheelchairs, and the morning she lay beside Grace as she died, and, for a while at least, keep them both alive. Stories breathe life. ... I also see ahead to a time when [Pransky] will not be there, and everything I know about her will have happened in the past, and her early death - because all dog deaths come too soon - will feel unjust, and will be unjust - not by the measure of history, which could care less, but by the measure of me. Strange to be grieving in anticipation of grief, but love will do that.
Get your copy of A Dog Walks Into a Nursing Home today.
Two reading recommendations follow.
The Rise & Fall of Great Powers by Tom Rachman
Recommended by Kerry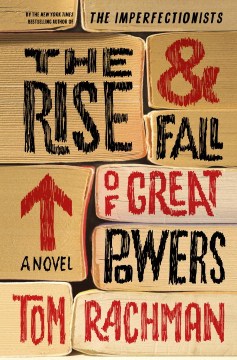 There are a trio of timelines that Rachman ravels and unravels in telling the story of Tooly Zylberberg. We first meet her in 2011, where she is the owner of the World's End second-hand bookstore in a small town in Wales. She bought the store knowing it was failing, and is, in fact, rather impatiently waiting for it to do so. She has an employee, a weirdly engaging younger man named Fogg, who "whatever the time of day, he appeared as if recently awakened by a fire drill". Together they spend their days reading and occasionally even selling books. As a reader 7who loves all bookstores, it was great to spend time in this idiosyncratic place, where sections were organized as "Artists who were unpleasant to their spouses; History, the dull bits; and Books you pretend to read but haven't". I'd love to visit this store.
You see that there is a restlessness and a mystery to Tooly, which is made more evident when the time shifts to 1999, where she is living a strange existence in New York City as a very young woman. From here, to 1988 in Bangkok where she is getting ready to go to yet another new school, before bouncing back to 2011, as Tooly responds to the urgent summons of an old boyfriend. This pattern of exploration continues through the book, often making your (and Tooly's) understanding even more uncertain.
Tooly is a wonderful character. I loved her as a child, was puzzled by her as a young adult, and admired her as an adult, as she tried to bring some logic to the mystery, abandonment, and colour of her past.
This is a terrific and beautifully written book. With wit, melancholy, understanding and many surprises it explores what it means to belong, to be lost and found, to contemplate what families are, what friendship means, how kindness comes from unexpected places, and how charisma can mask truth. And how, once knowing yourself and your need for love, perhaps you can find an identity, and a home.
Get your copy of The Rise & Fall of Great Powers today.
---
The Amazing Adventures of Kavalier & Clay by Michael Chabon
Recommended by Paul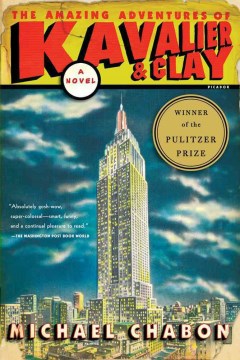 The adventures in this wonderful book were amazing, indeed. What an incredible book. This Pulitzer Prize winning title just dazzled me, such that I'm still grasping at ways to describe the pure enjoyment of this rollercoaster read.
Joe is a young man with tragedy at his core. Sam is a young man with denial at his core. Together they create genius. They met at the exact right time and place to succeed in something that, at the time, no one really valued: developing a comic book hero during what is now considered to be the golden age of comics. Joe brings knowledge of Houdini-like magic to the table along with his artistic skill, while Sam is a story-spinner of extraordinary ability.
Do I know anything about magic or comic books of this age? Not really? Did it matter? Not a jot.
The exuberance and excitement of the time (1939 Brooklyn and onward) was joyously alive on the page, while at the same time events across the Atlantic, as Europe began to convulse with the Second World War, and Jews were driven to their deaths by the millions in concentration camps, were a steady, serious counterpoint to Sam and Joe's neophyte comic book activities. Their comic creation, The Escapist, was a brilliant conceit on the part of Michael Chabon, and so brilliantly realized that you kind of finish the book believing that The Escapist was indeed a comic titan of that time, along with Superman and Batman. The Escapist is a man who cannot be contained, cannot be tied down, and cannot be stopped. He can escape any bounds.
The boys grow to be men and each chooses a most unexpected, yet understandable, path to maturity. By the end of the book, somehow their own individual approach to escape may have finally, decades after the end of the war, brought them the release they had always sought.
Full of vibrancy, sadness, love, and loss, I can't recommend this book too highly. It is a remarkable story.
Get your copy of The Amazing Adventures of Kavalier & Clay today.
White Mughals: Love and Betrayal in Eighteen Century India by William Dalrymple
Recommended by Ziyadd
The late 1700 and early 1800's in India was a time of tremendous political, societal, and cultural upheaval, with much jockeying for power and riches by Indians and Britons, with the latter being considerably more successful, and this complex time served as the backdrop to this surprising story.
It is difficult to find a way to succinctly describe this fascinating non-fiction exploration of cross-cultural love and loss which touches on military history, sexual mores, trade, politics, architecture, social history and so very much more. But I am going to do my best.
Using primary sources like diaries, dispatches, reports (some of which in code) and many other documents in English, Persian and Hindi (some of which had never previously been seen), Dalrymple has pulled together a colourful cast of characters to provide insight into this unique time and place.
James Achilles Kirkpatrick was the British Representative for the East India Company at the court of the Nizam of Hyderabad. He had enormous respect and appreciation for the culture in which he found himself, to the extent that he converted to Islam and embraced the way of life, architecture and behaviour. Further, he fell in love with the much younger Khair un-Nissa, an aristocratic Muslim woman, said to be descended from Mohammed himself. She had strong feelings for him, and their relationship echoed the turmoil and change that would colour the experience of India, and the British in India, for decades to come. Alas, the tide was turning within the East India Company. Men who respected, valued and ever preferred the Mughal way of life were no longer tolerated, and it was Kirkpatrick's misfortune to be there as the shift in attitude and prejudice was occurring.
There are many people who leapt off the page, but perhaps none so much as Aristu Jah. This former Prime Minister of the Nizam in Hyderabad was imprisoned in 1795 by Maratha forces who supported the French. Over two years later "not only had he been successful in negotiating his own release, he had managed to get the Marathas to agree to return almost all the land and fortresses that had been ceded to them after the Battle of Khardla. They had even waived the enormous indemnity owed to them by the Nizam". This is a man of some astonishing ability! Another stand out character was the so-called Colourful Colonel, James Kirkpatrick's raffish father, whose household in England was a diverse and interesting one.
I am so glad I read this book. Dalrymple is a deservedly celebrated and recognized social historian who has written a number of award winning books on Mideast topics. He is widely travelled, and since his first visit in 1984, has lived on and off in Delhi since 1989.
Get your copy of White Mughals today.
I've had so many great reading recommendations that I can no longer hold my reads to one a month. Three reading recommendations follow.
The Martian by Andy Weir
Recommended by Skip
When the first line of a book contains an f-bomb said by the principal character, and the third line of the book is only an f-bomb said by the same character, you may think you know what kind of book this will be, and who the man might be. Do words like life-affirming, entertaining, inventive, resourceful, and surprising come to mind? They should. This book surprised and delighted me: what an exciting first novel.
I was lucky enough to hear the author of this terrifically engaging book speak recently at a conference at an 8:30 a.m. session on a Sunday morning. Weir noted he was impressed that so many turned out to hear him at such a time, and my goodness, the attendees were in for a treat. Weir is an amusing, smart, and self-deprecating man, and he had the audience in the palm of his hand. Speaking afterwards to his publisher's representative, Skip told me that the author does very few speaking engagements (couldn't think why not: Weir is a natural), I told him I hadn't yet read the book or seen the movie, but was now very much looking forward to doing both. He recommended I read the book first, and so I have. So glad I went to the session, so glad I spoke to Skip, and am really very glad I read The Martian.
For those of you who haven't yet read this page-turning book, it is about Mark Watney, an astronaut who, due to circumstances outside anyone's control, is alone. On Mars. What happens next? Well, I guess you'll need to read this book, too.
Get your copy of The Martian today.
---
A Long Way Home by Saroo Brierley with Larry Buttrose by Amor Towles
Recommended by Liz
Liz recommended that I read this book back in March, but all the MPL copies were in use or on hold by a number of other people for weeks so I wasn't able to borrow the book until very late June. Reading the book, I certainly understand why it is on the reading list of so many others.
The front cover of the book notes "as a five-year-old in India, I got lost on a train. Twenty-five years later, from Australia, I found my way back. This is what happened in between."
As many of you will already know, this book was also made into the multi-award-winning movie, Lion (yet another film I haven't yet seen). I had read about both the book and movie so I did know generally what the book was about.
What I hadn't quite expected was how the simplicity with which the story was told would so deeply affect me as a reader. After I finished reading the book, I went back and read the first chapter again. It ends with the sentence "Come with me. I'm going to take you to your mother." Reading these words again with a better understanding of the impossibilities of his life brought tears to my eyes.
The scenes and stories of Saroo at home with his family as a child, living a life not only of incredible privation but also surrounded by love were powerful. When he is becoming lost, and then tells the tales of being lost were terribly frightening to read even though you know he survives. He proves himself to be a resourceful little boy, but again and again it seems luck is truly the most essential component to survival. Sometimes he met with kindness. More than once he is met with cruelty. Kindness, however, is what truly mattered, and it did end up saving him from the streets. At the end of the day, I think it was hope that drove the story. His hope to find his birth family. And his mother's deep hope that he would somehow return to her. For the mother it meant she stayed in the neighbourhood where he lived as a child refusing to move to be closer to her remaining children because he may somehow return and this stubborn determination meant the homecoming was possible. And when they met again? "My mother described her reactions better than I ever could mine: she said she was 'surprised with thunder' that her boy had come back, and that the happiness in her heart was 'as deep as the sea'.
It is a powerful story. I hope you enjoy it, too.
Get your copy of A Long Way Home today.
---
Hidden Figures: The American Dream and the Untold Story of the Black Women Mathematicians Who Helped Win the Space Race by Margot Lee Shetterly
Recommended by Kevin
Get your copy of Hidden Figures: The American Dream and the Untold Story of the Black Women Mathematicians Who Helped Win the Space Race today.
By chance I clearly have a July book reading theme: all were made into films. Unusually, I saw the movie made from this book before reading the book which is a rarity for me. While I was watching it, I thought more than once that I wanted to read the book since it was likely there was so much more to the story of these brilliant women. When it was recommended to me as a read, the time was right.
If you have watched the movie and haven't yet read the book, I can strongly recommend picking it up. It tells a story much broader in scope, more deeply nuanced, and with greater historical breadth than suggested by the film.
For those of you who may not be familiar with either the book or movie, the Hidden Figures are the black women mathematicians and engineers who did important work at NASA and its precursor (NACA) during the War, the Cold War, and the Space Race. There were dozens of women, and in particular a handful are the focus of the story including Dorothy Vaughan, Mary Jackson, and Katherine Johnson. As outlined in Shetterly's book, they led full and fulfilled lives as mothers, wives, active churchgoers and community members — and brilliant and tenacious workers whose expertise advanced the scientific achievements of the US, and who somehow did so at a time of divisive segregation and discrimination. One of the strengths of the book is how the societal milieu of the time is as important to the story as is the magnitude of their achievements. The cruelty of segregation is highlighted again and again: that German POWs were permitted to use local Virginia restaurants — but Black Americans could not. That people couldn't share a water fountain. A gas station. A restroom. A table. A neighbourhood. That the public school system was shut down for years in Virginia in protest to federally mandated de-segregation.
And in this time and place, women with brilliant minds were sought out, hired and valued for their brains. The women in turn wanted to have a work life that mattered, in which they did important work that contributed to their country's success, and who despite whatever indignities were faced daily, they never lost sight of the burning drive for scientific success and accomplishment. Their determination, focus, and strength of mind and purpose are truly inspiring. As Shetterly says in the book:
Just as islands, isolated places with unique, rich biodiversity, have relevance for the ecosystems everywhere, so does studying seemingly isolated or overlooked people and events from the past turn up unexpected connections and insights to modern life. The idea that black women had been recruited to work as mathematicians at the NASA installation in the south during the days of segregation defies our expectations and challenges much of what we think we know about American history. It's a great story and that alone makes it worth telling.
Get your copy of Hidden Figures today.
I've had so many great reading recommendations that I can no longer hold my reads to one a month. Three reading recommendations follow.
A Man Called Ove by Fredrik Backman
Recommended by Sandra
Curmudgeon.
No better term exists to describe Ove. He is not a pleasant man. He is not a happy man. He is not a man in whom the milk of human kindness runs freely.
Then we get to know Ove through the course of the book, and we learn the reasons why he is a pretty silent fellow not only is it his natural state, but it has been further reinforced by the tragedies and challenges of his life. He doesn't think that much of himself, but he does very strongly believe in justice, fair play, following rules, hard work, and the rightness of doing the right thing. He also knows how incredible it was the day he met the wonderful woman who would become his dearly loved wife. And we see there is much more to him than he is showing the world.
Now 59, another loss has happened to throw onto the pile of so many others that he has had to face, and he has had enough. He is determined there will be no more connections with others. No more purpose to his life. No more happiness. And then, well, life happens, often hilariously, and Ove, despite his stubborn resistance, reconnects with the world.
Here he is at the beginning of the book:
It was five to six in the morning when Ove and the cat met for the first time. The cat instantly disliked Ove exceedingly. The feeling was very much reciprocated... Ove stomped forward. The cat stood up. Ove stopped. They stood there, measuring up to each other for a few moments, like two potential troublemakers in a small-town bar. Ove considered throwing his clogs at it. The cat looked as if it regretted not bringing its own clogs to lob back.
How does life reassert itself? A heavily pregnant mom and a rather hapless dad move in across the way with their two young daughters. A rope breaks at an inconvenient time. The satirical and near feral cat decides Ove will do. An estranged old friend needs help. He has to rescue someone, when he had quite a different task in mind. He punches a clown. He becomes a bully-defying driving instructor. The list continues and somehow, to his bewilderment, Ove, the practical man, steps up again and again and connects with people.
Slowly, even as the characters in the book grow to love Ove, so too does the reader come to delight in this man. In his way he is kind, and he does care. We begin to truly understand that well hidden beneath Ove's bent for silence and irascible nature is a man who constitutionally must always do the right thing, because he is a rule follower. And one of the rules that is fundamental to his sense of self is to help when it is clear his help is needed. Now, he isn't always best pleased about having to do so, and he is truly cantankerous, but in helping others his life changes to the deep pleasure of all, especially the reader.
I'm very enthusiastic about this title, and I do hope you read it, too.
Get your copy of A Man Called Ove today.
---
A Gentleman in Moscow by Amor Towles
Recommended by Fraser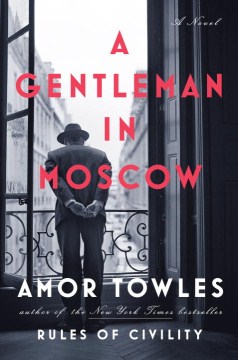 This reading challenge has been a wonderful experience. You have recommended authors and books to me that I'm not sure I would have come across, and I can't tell you how much I appreciate your ideas. I look forward with pleasure to more recommendations coming forward.
A gentleman in Moscow is yet another winner. Count Rostov is the gentleman referenced in the title, and the tale of his life in Moscow is a wonderful surprise. I was *never* able to guess what happened next.
In the turmoil and chaos of Russia in the early 1920's, Rostov is nearly shot for being a man of his class, but a fortuitously written poem written at an earlier time provides enough weight of revolutionary zeal to save his life. On the other hand, he is declared to be a Former Person, and as such is told where he is to live for the rest of his days. He is then further advised that leaving that place will be a death sentence. And so the Count becomes a permanent resident of the Metropol Hotel in Moscow, a slightly removed and not quite eyewitness to a tumultuous time in Russian and world history.
Early in the book, a story is told of his seven year old self, who behaved badly with a neighbouring boy when he lost at a game. His very sharp grandmother visited him in his misery and said, "There is nothing pleasant to be said about losing," she began," and the Obolensky boy is a pill. But, Sasha, my dear, why on earth would you give him the satisfaction?" This approach to dealing with life's challenges becomes very much a part of what the man would become. Later he is tasked with deciding what among the treasures that already decorate a suite of rooms at the Metropol, at which he has lived since 1918, will be taken with him to his new and much smaller space in the belfry of the building. He recognizes the challenge:
From the earliest age, we must learn to say good-bye to friends and families... But experience is less likely to teach us how to bid our dearest possessions adieu. And if it were to? We wouldn't welcome the education... we imagine that these carefully preserved possessions might give us genuine solace in the face of a lost companion.

But of course, a thing is just a thing.

And so, slipping his sister's scissors into his pocket, the Count looked once more at what heirlooms remained and then expunged them from his heartache forever.
He is certainly a man to admire, which we see as we settle in with the Count as he accepts what may seem like a circumscribed life in the Metropol. However, while most of the book is set within its walls, circumscribed it is not. The hotel becomes the world writ small. The book surprised me again and again with its sanity, humanity, humour and grace, much of this informed by Count Rostov. He is kind, sophisticated, worldly, accepting, loyal, cultured, determined, and decisive. At some point, he takes a job, and is superb at it. He never moans about his lot, and he never loses sight of what is happening in the world at large, and yet accepts that while his world is a smaller and more contained one, it is still a world of wonders.
The author has brilliantly created a tiny world within this huge hotel that is never claustrophobic or restrictive because Rostov refuses to give up. The Count's world is full. There are people who become dear friends and family, an enemy or two, natural enemies who become friends, hidden rooms, secret panels, allies, the dignity of work, love, laughter, culture, bureaucracy gone mad, compassion, derring-do, incredible food, better wine, and a story of discovery that will keep you guessing and engaged to the final page. Through it all, the urbane, literate and charming Rostov becomes a wonderful companion with whom to spend time.
Get your copy of A Gentleman in Moscow today.
---
The Ocean at the End of the Lane by Neil Gaiman
Recommended by Samreen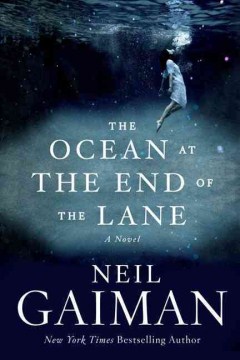 A middle-aged man returns to his hometown for a funeral. After it was done, instead of doing what he should be doing (going to his sister's), he finds himself returning to the place where his childhood home once stood. Meandering, he arrives at his neighbours' place, and memories from his life as a seven year old boy come rushing back. The Opal Man. Lettie Hempstock. Ginny, her mom. Old Mrs. Hempstock, the granny. His parents. Ursula Monkton. All of it. The flood of reminiscence is strong, and the memories so profound you struggle to understand how they could ever be forgotten.
The boy is resourceful and independent. Lonely. He says, "I was not a happy child, although from time to time I was content. I lived in books more than I lived anywhere else". He has his seventh birthday party to which no friends or schoolmates come, and while sad, he is pleased to end up with a Batman figure and a boxed set of the Narnia books. "Books were safer than people anyway". Family financial difficulties have required him to give up his bedroom to lodgers, so he bunks with his older sister. His fears of the dark are not treated sympathetically by her, but a compromise is reached and he is mostly content. He is not a doleful child. His life is just his life.
And then the Opal Man comes. As a result of the decisions this man makes, the Hempstocks are brought into the story, and the boy therefore into their orbit, and the plot of this slim title takes off. It is clear that the Hempstocks are more than they appear, and it is a good thing, too, since there is evil coming, and the shakily steadfast narrator will need their help to overcome its power.
Neil Gaiman is a multi-award-winning author of stories, novels, comics, graphic novels, and television and movie scripts. I hadn't read anything by him before, and I'm really happy to have been prompted to finally fill this reading gap.
There are scenes in this book of profound recollection of what it is like to be seven years old, when adults make no sense, the world is confusing, and somehow otherworldly things seem obvious and real. It doesn't take long for the very skilled author to craft episodes of fear and dread, bravery, and sacrifice that quickened the pace of my reading even more. At least one scene of absolute terror between the boy and his father had me quaking in my boots the intensity of it was amazing and it was almost cinematic in its depiction.
This snippet underscores the author's gift for description:
Over the stile. I came down into a clump of nettles, I knew, as the hot-cold pricking burning covered my exposed ankles and tops of my feet, but I ran again, now, ran as best I could. I hoped I was still heading for the Hempstocks' farm. I had to be. I crossed one more field before I realized that I no longer knew where the lane was, or for that matter, where I was. I knew only that the Hempstocks' farm was at the end of my lane, but I was lost in a dark field, and the thunderclouds had lowered, and the night was so dark, and it was still raining, even if it was not raining hard yet, and now my imagination filled the darkness with wolves and ghosts. I wanted to stop imagining, to stop thinking, but I could not.

And behind the wolves and the ghosts and the trees that walked, there was Ursula Monkton...
When the book draws to a close, the narrator leaves the farm, thinking about memory. And we understand much more than he does about the power and fragility of memories.
What a terrific book.
Get your copy of The Ocean at the End of the Lane today.
I've had so many great reading recommendations that I can no longer hold my reads to one a month. Three reading recommendations follow.
Wonder by R. J. Palacio
Recommended by Menaka
This terrific book was the first children's title that has been recommended to me, and I really enjoyed it.
Auggie is a boy with many advantages: he is smart and funny, he and his sister are great friends, his parents are loving, and he has a grand dog named Daisy (I'm a sucker for a good pet in a story). It is a good thing that he has so many positive aspects to his life, as he also has more very difficult realities. He began life with significant physical challenges and while his many surgeries have improved the quality of his life, his appearance isn't 'normal'. Considering how important fitting in seems to be when you are in middle school, someone not looking like what passes for normal is likely to face difficulties.
As the book begins, Auggie is heading to grade 5. It is the first time he has ever gone to school, and so the anxiety ramps up for him and his family. And since it takes no time for the reader to care for this wonderful boy, we join him in his worries as we go with him to classrooms, hallways, labs, and stairways, hoping he will be met with kindness, but knowing he will be also be a target for unkind attention.
I really enjoyed how the author decided to tell the story with the voices of some of the other characters. Doing so deepens our understanding of them, and helped to further underscore just how great a kid is Auggie.
MPL had a wonderful employee I was lucky enough to work with for almost two decades. Lee had a mantra she used in her daily life, and as a training statement for the staff she supervised: When in doubt, be kind. I thought of her often as I read Wonder. She would have loved it since kindness is such an important theme woven in the fabric of this charming story.
Get your copy of Wonder today.
---
The High Mountains of Portugal by Yann Martel
Recommended by the One Book, One Milton Committee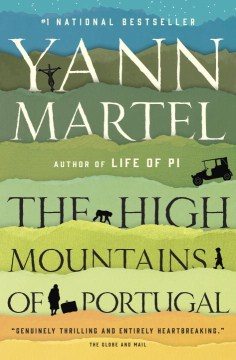 This is the first book I've read by Martel, and it won't be my last as this year's One Book One Milton title) was a revelation. Martel has such an amazing gift for bringing characters vividly alive on the page and I thought he was particularly good when underscoring the heartbreak life so often brings. From a disillusioned priest trying to bring comfort to slaves, who has a revelation about the equality of humanity that shatters him, to a bereft scholar who undertakes an improbable automobile trek across Portugal in 1904, to a devoted husband of 38 years who continues to be dazzled by the incisive intelligence of his much loved wife, to the practical farm wife who insists on an unexpected procedure to be completed, and the grieving widower who connects with a force of nature, all of these disparate characters send the story spinning in many directions, but somehow all of the elements of the book resolve with an overlapping series of outcomes.
Faith. Love. Humanity. All of these are at the core of this sometimes bizarre, whimsical, comical, tragic, and ultimately deeply moving book.
Get your copy of The High Mountains of Portugal today.
---
All the Light We Cannot See by Anthony Doerr
Recommended by Samreen and Maria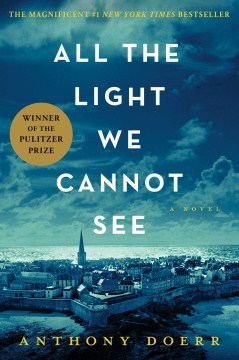 My. What a book. First of all, can we just stop for a moment to admire the poetry of the title? It is just resonantly beautiful.
Early in the book this is heard on the radio "The brain is locked in total darkness, of course, children, says the voice. It floats in a clear liquid inside the skull, never in the light. And yet the world it constructs in the mind is full of light. It brims with colour and movement. So how, children, does the brain, which lives without a spark of light, build for us a world of light?"
This time-shifting book set in the lead-up to and during the Second World War was a revelation. The characterizations were richly drawn, and as I write this, I continue to think about the major and minor people who threaded their way into and out of the story. Set principally in France, but also in Germany, we meet Marie-Laure, the much loved (and blind) daughter of a master locksmith and craftsman who works at an important museum in Paris, and we also meet Werner, an orphan who with his much loved sister, Jutta, lives in an orphanage in Germany where he displays a tremendous aptitude for circuitry, radios, and technology. Both are on a collision course with the horrors of war. We are with them as the author deftly brings episodes of their lives, and those of other characters forward and then lets them recede again, as another story, another time shift is highlighted to further explore how and why people make choices for which the consequences must then be accepted.
There are many kinds of darkness that are explored in the book, but the book glows with love, hope, sacrifice and courage which help to illuminate this story that describes so many dreadful days of the war.
Get your copy of All the Light We Cannot See today.
Behind Closed Doors by B. A. Paris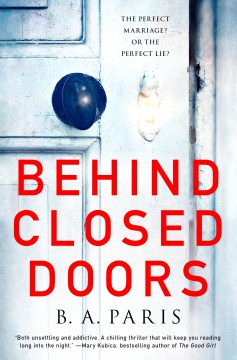 When your marriage is not what you thought it would be, and the person you are newly married to turns out to be terrifying rather than terrific, what do you do? This is the premise that drives this tension-filled book by B.A. Paris in her debut novel.
Grace and Jack don't have the fairy-tale marriage they present to the world -- it is instead the stuff of nightmare. In this domestic thriller, Grace finds herself married to a psychopath who loves inflicting fear and torture through extreme control and manipulation and who has even more repellent plans in mind that propels the need for her to take action.
While I did at times wonder about Grace's actions, there is no doubt that the fast-paced action keeps the reader's attention engaged. The idea that predicated Grace's desperate decision came from a most unexpected source, as did the supportive action that brought some further relief.
I wouldn't have picked this book up without the recommendation from a very kind fellow reader, (whose name I sadly misplaced: apologies -- do let me know who you are), as I tend to read much more non-fiction than fiction these days. And that is a happy thing, and is the point of this challenge: to read books I haven't read, perhaps by authors I don't know, and in styles I haven't picked up in a while. This book satisfied all of these factors. The fact that it is indeed a page turner is demonstrated by the fact that I read it cover to cover in just one night!
Get your copy of Behind Closed Doors today.
The Nightingale by Kristin Hannah
Recommended by Rachel
History is a strong interest of mine, and I've read a great deal about the Second World War, chiefly non-fiction. It is always interesting to explore the impact of the war within a fictionalized framework, and in particular to look at how the war affected non-combatants in general, and women in particular. The Nightingale tells the story of two young women, sisters, who have grown to adulthood in France just as the war begins. The story is told from the perspective of one of the sisters in old age, and the author has chosen to use the conceit of not revealing just which one of the sisters is telling the story until late in the book. While I'm not sure I agreed with this decision (what? The war itself wasn't interesting enough?), I did enjoy the book, particularly the last half onward, and I am very glad that Rachel recommended it to me.
Reading The Nightingale gave me the opportunity to think again about a truly stunning book I read and loved last year, and I can't recommend it highly enough to those who also read and enjoyed The Nightingale. The book is Suite française by Irène Némirovsky (translated by Sandra Smith), and it is so powerful and moving. This astonishing work was set at the exact time frame outlined in the first part of Hannah's work, also in France. The difference? Nemirvosky wrote it in France as the war and fall of France happened around her. And as a Jewish woman, the outcome for her was dire, echoing the fate of a character in The Nightingale. Her children survived through the help of loving friends, and one of them kept the scraps of paper on which the work was written. Thinking it was a diary, the daughter didn't have the heart to read it until decades later. Upon publication, it was received with well-deserved acclaim.
Although The Nightingale does suffer somewhat in comparison to the much stronger Suite française, both are definitely worth reading. Let me know what you think.
I'm looking forward to more suggestions of what books you love that you'd like me to read next.
Get your copy of The Nightingale today.
When Breath Becomes Air by Paul Kalanithi
Recommended by Mehfil
In so many ways this book was well timed. It was deeply upsetting, and yet also deeply moving, and the author explored important issues: what makes life worth living in the face of death? When the future disappears to a truncated present, how do you move forward?
Kalanithi was a neurosurgeon resident in his mid-30's, poised for great things. He was formidably intelligent and academically a polymath. He had expected his life to be that of a writer, but when he became fascinated by the brain, he made the decision to become a doctor. He was married to a woman, another doctor, whom he loved deeply, although the marriage was in trouble as he neared the end of his residency. And then health matters manifested, which were sadly sidelined for too long. When he could no longer ignore the painful symptoms, he was a very sick man, indeed.
"Lost in a featureless wasteland of my own mortality, and finding no traction in the realms of scientific studies, intracellular molecular pathways, and endless curves of survival statistics, I began reading literature again... searching for a vocabulary with which to make sense of death, to find a way to begin defining myself and inching forward again .... The privilege of direct experience had led me away from literary and academic work, yet now I felt that to understand my own direct experiences, I would have to translate them back into language."
Despite his illness, inspiringly he was determined to try to continue to embrace life, and to continue to try and explore the meaning in / of life when death is approaching. He and his wife, Lucy, fixed their marital issues. He somehow returned to work, and did exceptional work. He was determined to write this beautiful memoir, which included an exploration of the challenges, successes and failures of being a doctor, and did so to honour his lifelong love for literature and language. Lucy became pregnant, and he gained such joy from the birth of their daughter, Cady. His part of the memoir finishes with this paragraph, a prayer for his child:
"When you come to one of the many moments in life where you must give an account of yourself, provide a ledger of what you have been, and done, and meant to the world, do not, I pray, discount that you filled a dying man's days with sated joy, a joy unknown to me in all my prior years, a joy that does not hunger for more and more, but rests, satisfied. In this time, right now, that is an enormous thing."
This was a powerful and profound book. I'm immensely grateful that Mehfil recommended it to me. Thank you.
Get your copy of When Breath Becomes Air today.
The Rosie Project by Graeme Simsion
Recommended by Diane
Unexpected, entertaining, amusing and smartly written, this book, written firmly in the romantic comedy vein, tells the story of Don Tillman, a brilliant and extremely literal-minded university geneticist who appears to have some Asperger's-like symptoms although this has not been diagnosed by any medical professional, or by himself; he is a truth teller, so I suspect if he thought he was he would pursue confirmation. Science would demand no less. Regardless he lives a highly-regimented life, with few friends due to his challenging, unusual and very awkward personality. However, he does have friends, and his family (in particular, his mom) who care for him. That being said, due to being so socially challenged he is a bit lonely, and enters into a Wife Project (with often hilarious results), meets with Rosie and becomes engaged in her Father Project (to even greater hilarity; the bartending scenes were brilliant).
He is a good professor, tries to be a thoughtful friend, proves to be both creative and risk-taking, is highly logical, deeply principled, and is very intelligent. And more than that, he is very, very endearing. I really liked him, and loved experiencing his life for a bit. It was evident from his first meeting with Rosie that she will become important to him, but despite this being obvious from the get-go, the journey was so much fun. While the tone of the book was overall lighthearted in nature, there were still moments of deep feeling wrapped around exploring the needs for companionship and caring relationships, how we may come to understand our own identities, and what opportunities are before us that can help change aspects of behaviour, and still be ourselves. Highly recommended.
Get your copy of The Rosie Project today.
---
The Rosie Effect by Graeme Simsion (sequel to The Rosie Project)
Recommended by Diane
It was entertaining to spend more time in the life and head of Don Tillman, now relocated to New York City from Melbourne with his new wife. Despite his idiosyncratic ways, Don still manages to make new friends which is a good thing since he will come to need them very much, and he in turn is able to provide meaningful help to them when their lives spiral out of control. You never stop rooting for him and his happiness as he is just such a good, albeit odd, man.
While I didn't find this book to be as strong as the first, Don is wonderful and I'm not at all sorry I read it. It isn't unusual for sequels to lack some of the strengths of first books, and when the freshness revealed in the first title is now a known quantity you lose some, but certainly not all of the charm. If I could recommend one direction: don't read this immediately after the first, but do read it.
Get your copy of The Rosie Effect today.