2017 Reading Challenge: I Can't Do It Without You
As some of you already know, I've been completing a personal reading challenge each year for the past two years. It began in 2015 when I realized I wanted to reawaken my love for fiction, and so spent the year reading wonderful classic works of fiction, from Dumas, Dickens, Tolstoy, Woolf, Achebe, Marques, Hugo, Cather, and more. Doing so made me realize how many books I had in my house that somehow I had bought but not yet read, so the 2016 project was to read stuff that I already owned (with one proviso that I could also read items from MPL). I am a fast reader, and by watching a lot less TV, somehow I read 200 books, some of which I had owned since the early 1970's. The oldest book I read was A Journal of the Plague Year by Daniel Defoe written in 1722, and one of the newest was Margaret Atwood's The Heart Goes Last. Most of these 200 books have since left the house. Some fell apart as I read them, so they were recycled, others were passed along to family and friends, but the balance were popped into the bin at the Main Library for the Canadian Federation of University Women annual book sale the proceeds of which support local scholarships.
I've been so inspired by these challenges, and in thinking about 2017, I wasn't sure what direction to follow. Certainly I need to continue my project to read things I already own, and I'm going to so, but I wanted a new element to the challenge, and this is where you come in.
I want to read books that you admire and love, too. I'm happy to read as much as I can of the titles you recommend: children's books, teen titles, fiction, non-fiction, new or old. Reading in areas I may not be familiar with will be a wonderful experience and I'm looking forward to stretching my brain all year long.
Share with me by email to Leslie.Fitch@mpl.on.ca, and I'll read at least one book a month from your recommendations, and will share my thoughts here on this page each month.
Thanks in advance for helping me make 2017 another wonderful year of reading.
I've had so many great reading recommendations that I can no longer hold my reads to one a month. Three reading recommendations follow.
Wonder by R. J. Palacio
Recommended by Menaka
This terrific book was the first children's title that has been recommended to me, and I really enjoyed it.
Auggie is a boy with many advantages: he is smart and funny, he and his sister are great friends, his parents are loving, and he has a grand dog named Daisy (I'm a sucker for a good pet in a story). It is a good thing that he has so many positive aspects to his life, as he also has more very difficult realities. He began life with significant physical challenges and while his many surgeries have improved the quality of his life, his appearance isn't 'normal'. Considering how important fitting in seems to be when you are in middle school, someone not looking like what passes for normal is likely to face difficulties.
As the book begins, Auggie is heading to grade 5. It is the first time he has ever gone to school, and so the anxiety ramps up for him and his family. And since it takes no time for the reader to care for this wonderful boy, we join him in his worries as we go with him to classrooms, hallways, labs, and stairways, hoping he will be met with kindness, but knowing he will be also be a target for unkind attention.
I really enjoyed how the author decided to tell the story with the voices of some of the other characters. Doing so deepens our understanding of them, and helped to further underscore just how great a kid is Auggie.
MPL had a wonderful employee I was lucky enough to work with for almost two decades. Lee had a mantra she used in her daily life, and as a training statement for the staff she supervised: When in doubt, be kind. I thought of her often as I read Wonder. She would have loved it since kindness is such an important theme woven in the fabric of this charming story.
Get your copy of Wonder today.
---
The High Mountains of Portugal by Yann Martel
Recommended by the One Book, One Milton Committee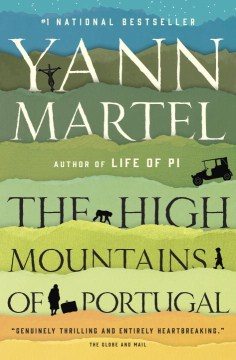 This is the first book I've read by Martel, and it won't be my last as this year's One Book One Milton title) was a revelation. Martel has such an amazing gift for bringing characters vividly alive on the page and I thought he was particularly good when underscoring the heartbreak life so often brings. From a disillusioned priest trying to bring comfort to slaves, who has a revelation about the equality of humanity that shatters him, to a bereft scholar who undertakes an improbable automobile trek across Portugal in 1904, to a devoted husband of 38 years who continues to be dazzled by the incisive intelligence of his much loved wife, to the practical farm wife who insists on an unexpected procedure to be completed, and the grieving widower who connects with a force of nature, all of these disparate characters send the story spinning in many directions, but somehow all of the elements of the book resolve with an overlapping series of outcomes.
Faith. Love. Humanity. All of these are at the core of this sometimes bizarre, whimsical, comical, tragic, and ultimately deeply moving book.
Get your copy of The High Mountains of Portugal today.
---
All the Light We Cannot See by Anthony Doerr
Recommended by Samreen and Maria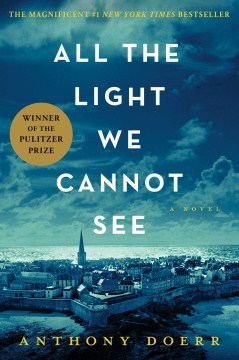 My. What a book. First of all, can we just stop for a moment to admire the poetry of the title? It is just resonantly beautiful.
Early in the book this is heard on the radio "The brain is locked in total darkness, of course, children, says the voice. It floats in a clear liquid inside the skull, never in the light. And yet the world it constructs in the mind is full of light. It brims with colour and movement. So how, children, does the brain, which lives without a spark of light, build for us a world of light?"
This time-shifting book set in the lead-up to and during the Second World War was a revelation. The characterizations were richly drawn, and as I write this, I continue to think about the major and minor people who threaded their way into and out of the story. Set principally in France, but also in Germany, we meet Marie-Laure, the much loved (and blind) daughter of a master locksmith and craftsman who works at an important museum in Paris, and we also meet Werner, an orphan who with his much loved sister, Jutta, lives in an orphanage in Germany where he displays a tremendous aptitude for circuitry, radios, and technology. Both are on a collision course with the horrors of war. We are with them as the author deftly brings episodes of their lives, and those of other characters forward and then lets them recede again, as another story, another time shift is highlighted to further explore how and why people make choices for which the consequences must then be accepted.
There are many kinds of darkness that are explored in the book, but the book glows with love, hope, sacrifice and courage which help to illuminate this story that describes so many dreadful days of the war.
Get your copy of All the Light We Cannot See today.
Behind Closed Doors by B. A. Paris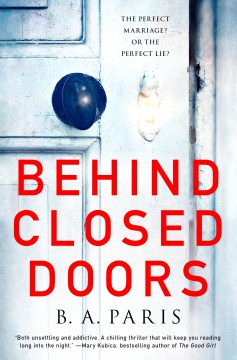 When your marriage is not what you thought it would be, and the person you are newly married to turns out to be terrifying rather than terrific, what do you do? This is the premise that drives this tension-filled book by B.A. Paris in her debut novel.
Grace and Jack don't have the fairy-tale marriage they present to the world -- it is instead the stuff of nightmare. In this domestic thriller, Grace finds herself married to a psychopath who loves inflicting fear and torture through extreme control and manipulation and who has even more repellent plans in mind that propels the need for her to take action.
While I did at times wonder about Grace's actions, there is no doubt that the fast-paced action keeps the reader's attention engaged. The idea that predicated Grace's desperate decision came from a most unexpected source, as did the supportive action that brought some further relief.
I wouldn't have picked this book up without the recommendation from a very kind fellow reader, (whose name I sadly misplaced: apologies -- do let me know who you are), as I tend to read much more non-fiction than fiction these days. And that is a happy thing, and is the point of this challenge: to read books I haven't read, perhaps by authors I don't know, and in styles I haven't picked up in a while. This book satisfied all of these factors. The fact that it is indeed a page turner is demonstrated by the fact that I read it cover to cover in just one night!
Get your copy of Behind Closed Doors today.
The Nightingale by Kristin Hannah
Recommended by Rachel
History is a strong interest of mine, and I've read a great deal about the Second World War, chiefly non-fiction. It is always interesting to explore the impact of the war within a fictionalized framework, and in particular to look at how the war affected non-combatants in general, and women in particular. The Nightingale tells the story of two young women, sisters, who have grown to adulthood in France just as the war begins. The story is told from the perspective of one of the sisters in old age, and the author has chosen to use the conceit of not revealing just which one of the sisters is telling the story until late in the book. While I'm not sure I agreed with this decision (what? The war itself wasn't interesting enough?), I did enjoy the book, particularly the last half onward, and I am very glad that Rachel recommended it to me.
Reading The Nightingale gave me the opportunity to think again about a truly stunning book I read and loved last year, and I can't recommend it highly enough to those who also read and enjoyed The Nightingale. The book is Suite française by Irène Némirovsky (translated by Sandra Smith), and it is so powerful and moving. This astonishing work was set at the exact time frame outlined in the first part of Hannah's work, also in France. The difference? Nemirvosky wrote it in France as the war and fall of France happened around her. And as a Jewish woman, the outcome for her was dire, echoing the fate of a character in The Nightingale. Her children survived through the help of loving friends, and one of them kept the scraps of paper on which the work was written. Thinking it was a diary, the daughter didn't have the heart to read it until decades later. Upon publication, it was received with well-deserved acclaim.
Although The Nightingale does suffer somewhat in comparison to the much stronger Suite française, both are definitely worth reading. Let me know what you think.
I'm looking forward to more suggestions of what books you love that you'd like me to read next.
Get your copy of The Nightingale today.
When Breath Becomes Air by Paul Kalanithi
Recommended by Mehfil
In so many ways this book was well timed. It was deeply upsetting, and yet also deeply moving, and the author explored important issues: what makes life worth living in the face of death? When the future disappears to a truncated present, how do you move forward?
Kalanithi was a neurosurgeon resident in his mid-30's, poised for great things. He was formidably intelligent and academically a polymath. He had expected his life to be that of a writer, but when he became fascinated by the brain, he made the decision to become a doctor. He was married to a woman, another doctor, whom he loved deeply, although the marriage was in trouble as he neared the end of his residency. And then health matters manifested, which were sadly sidelined for too long. When he could no longer ignore the painful symptoms, he was a very sick man, indeed.
"Lost in a featureless wasteland of my own mortality, and finding no traction in the realms of scientific studies, intracellular molecular pathways, and endless curves of survival statistics, I began reading literature again... searching for a vocabulary with which to make sense of death, to find a way to begin defining myself and inching forward again .... The privilege of direct experience had led me away from literary and academic work, yet now I felt that to understand my own direct experiences, I would have to translate them back into language."
Despite his illness, inspiringly he was determined to try to continue to embrace life, and to continue to try and explore the meaning in / of life when death is approaching. He and his wife, Lucy, fixed their marital issues. He somehow returned to work, and did exceptional work. He was determined to write this beautiful memoir, which included an exploration of the challenges, successes and failures of being a doctor, and did so to honour his lifelong love for literature and language. Lucy became pregnant, and he gained such joy from the birth of their daughter, Cady. His part of the memoir finishes with this paragraph, a prayer for his child:
"When you come to one of the many moments in life where you must give an account of yourself, provide a ledger of what you have been, and done, and meant to the world, do not, I pray, discount that you filled a dying man's days with sated joy, a joy unknown to me in all my prior years, a joy that does not hunger for more and more, but rests, satisfied. In this time, right now, that is an enormous thing."
This was a powerful and profound book. I'm immensely grateful that Mehfil recommended it to me. Thank you.
Get your copy of When Breath Becomes Air today.
January Reads The Rosie Project by Graeme Simsion Recommended by Diane
Unexpected, entertaining, amusing and smartly written, this book, written firmly in the romantic comedy vein, tells the story of Don Tillman, a brilliant and extremely literal-minded university geneticist who appears to have some Asperger's-like symptoms although this has not been diagnosed by any medical professional, or by himself; he is a truth teller, so I suspect if he thought he was he would pursue confirmation. Science would demand no less. Regardless he lives a highly-regimented life, with few friends due to his challenging, unusual and very awkward personality. However, he does have friends, and his family (in particular, his mom) who care for him. That being said, due to being so socially challenged he is a bit lonely, and enters into a Wife Project (with often hilarious results), meets with Rosie and becomes engaged in her Father Project (to even greater hilarity; the bartending scenes were brilliant).
He is a good professor, tries to be a thoughtful friend, proves to be both creative and risk-taking, is highly logical, deeply principled, and is very intelligent. And more than that, he is very, very endearing. I really liked him, and loved experiencing his life for a bit. It was evident from his first meeting with Rosie that she will become important to him, but despite this being obvious from the get-go, the journey was so much fun. While the tone of the book was overall lighthearted in nature, there were still moments of deep feeling wrapped around exploring the needs for companionship and caring relationships, how we may come to understand our own identities, and what opportunities are before us that can help change aspects of behaviour, and still be ourselves. Highly recommended.
Get your copy of The Rosie Project today.
---
The Rosie Effect by Graeme Simsion (sequel to The Rosie Project)
Recommended by Diane
It was entertaining to spend more time in the life and head of Don Tillman, now relocated to New York City from Melbourne with his new wife. Despite his idiosyncratic ways, Don still manages to make new friends which is a good thing since he will come to need them very much, and he in turn is able to provide meaningful help to them when their lives spiral out of control. You never stop rooting for him and his happiness as he is just such a good, albeit odd, man.
While I didn't find this book to be as strong as the first, Don is wonderful and I'm not at all sorry I read it. It isn't unusual for sequels to lack some of the strengths of first books, and when the freshness revealed in the first title is now a known quantity you lose some, but certainly not all of the charm. If I could recommend one direction: don't read this immediately after the first, but do read it.
Get your copy of The Rosie Effect today.