April Reads
Behind Closed Doors by B. A. Paris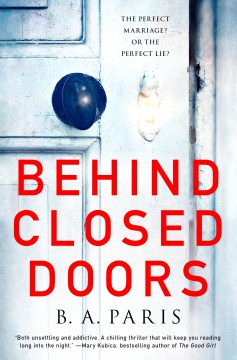 When your marriage is not what you thought it would be, and the person you are newly married to turns out to be terrifying rather than terrific, what do you do? This is the premise that drives this tension-filled book by B.A. Paris in her debut novel.
Grace and Jack don't have the fairy-tale marriage they present to the world -- it is instead the stuff of nightmare. In this domestic thriller, Grace finds herself married to a psychopath who loves inflicting fear and torture through extreme control and manipulation and who has even more repellent plans in mind that propels the need for her to take action.
While I did at times wonder about Grace's actions, there is no doubt that the fast-paced action keeps the reader's attention engaged. The idea that predicated Grace's desperate decision came from a most unexpected source, as did the supportive action that brought some further relief.
I wouldn't have picked this book up without the recommendation from a very kind fellow reader, (whose name I sadly misplaced: apologies -- do let me know who you are), as I tend to read much more non-fiction than fiction these days. And that is a happy thing, and is the point of this challenge: to read books I haven't read, perhaps by authors I don't know, and in styles I haven't picked up in a while. This book satisfied all of these factors. The fact that it is indeed a page turner is demonstrated by the fact that I read it cover to cover in just one night!
Get your copy of Behind Closed Doors today.